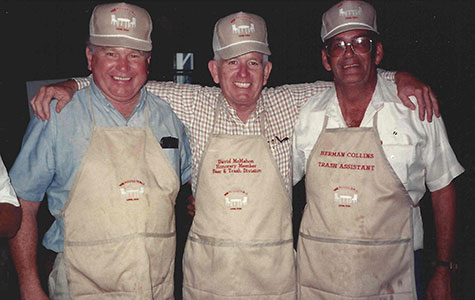 Moore Angus began with

Raymond Moore in the early 1970's and his vision to accomplish two very simple tasks; raise Angus Cattle in East Texas, and build good friendship in the cattle business. After many years of trying his hand at it, Raymond not only succeeded in raising and selling thousands of head of cattle but with the help of many good friends together they sold over $6 Million in Angus Cattle during his 22 year tenure with the East Texas Angus Association. Along the way Raymond served as President of the Texas Angus Association and was inducted in to the Texas Angus Association Hall Of Fame.

He was known among many in the cattle industry for insuring everyone had fun and passing on that enthusiasm was his passion. Over the years Raymond did just that; his youngest son, Brian Moore and his youngest nephew Ben Moore have no doubt been infected by his enthusiasm for Angus Cattle, having fun, and making friends.

Today Raymond is no longer with us, but his legacy is still firmly planted at Moore Angus as you will see in our inventory of premier registered Angus breeding bulls. Come check us out, we guarantee you will like what you see, and make a new friend.